My Journal
All pictures were taken by my mobile phone (Sony Ericsson K750i or K800i) or DMC-LC5 (pictures with >300dpi width).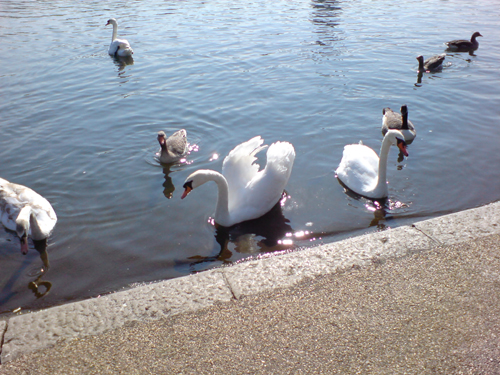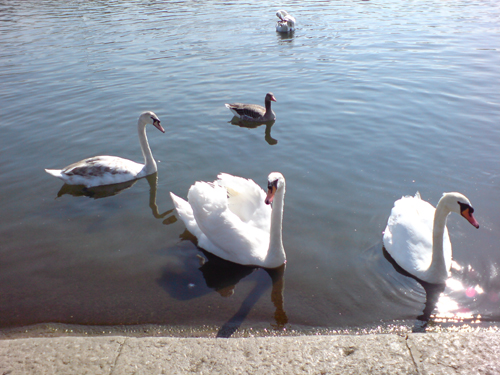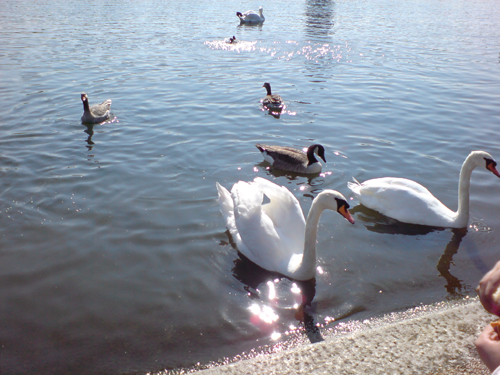 Very beautiful swans in Hyde Park (Serpentine). Joe and me enjoyed a wonderful aftternoon in Hyde Park.
05 April 2007

Chinese NewYear in London China Town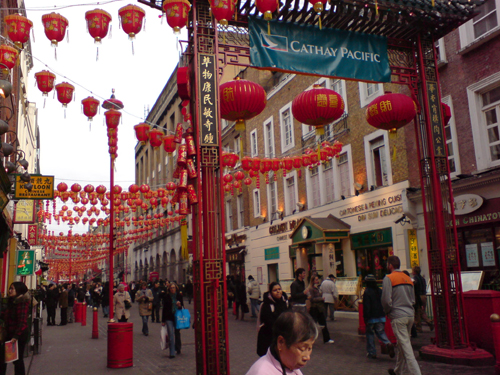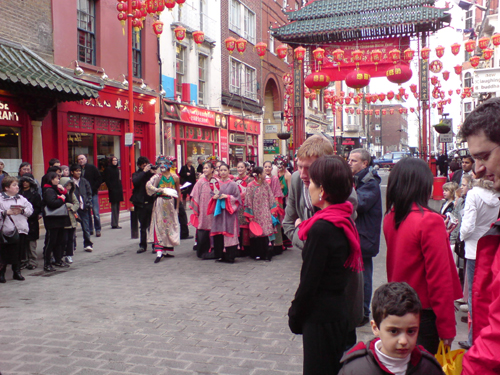 Welcome, the Year of Pig.
16 Feb 2007

A mobile congestion charge monitor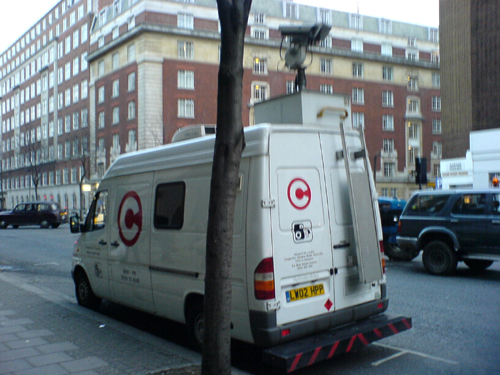 A mobile congestion charge monitor to catch cars, which entering London congestion zone without paying the congestion charge. It is funny.
29 Jan 2007

Winter came late?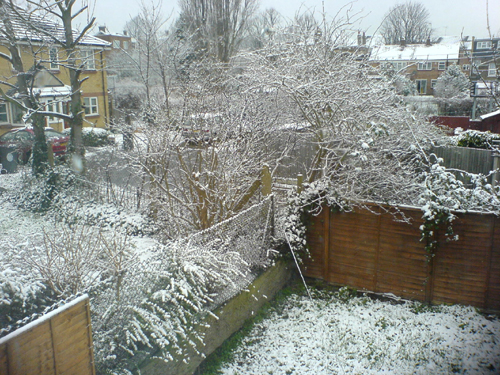 The first big snow in this winter (2006-2007) came today.
24 Jan 2007

A break in Hong Kong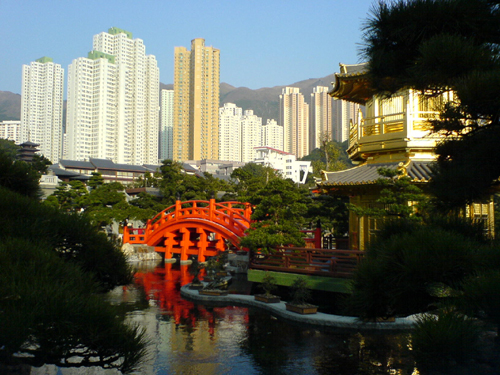 A new garden, in Diamond Hill (Hong Kong), called Nan Lian Garden. It is near to Chi Lin Nunnery. Joe and me visited Hong Kong in the Christmas and New Year period.
07 Jan 2007

Inpected luggage by US Tranportation Administration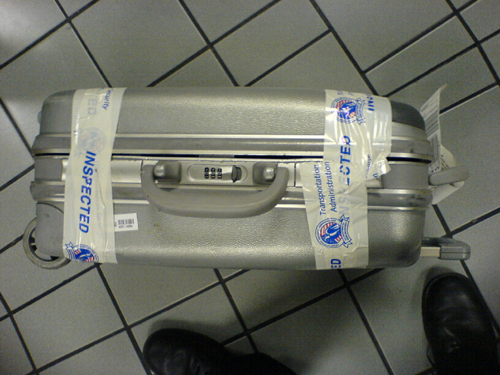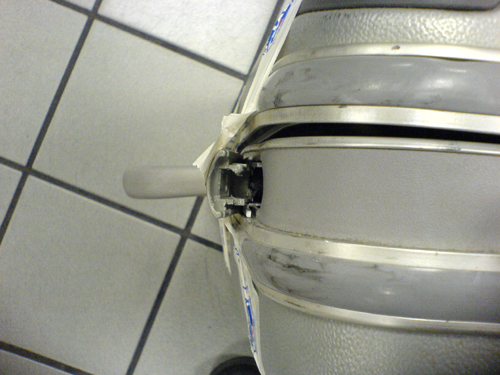 I don't know whether they have the right to break passengers' luggages for inspection or not. Unlucky!!
05 Oct 2006

NYC, USA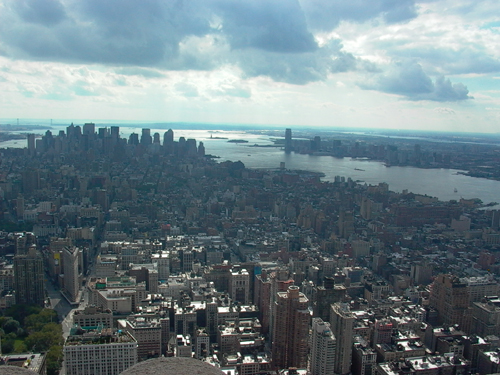 Manhaton and Statue of Liberty from the top of Empire State Building.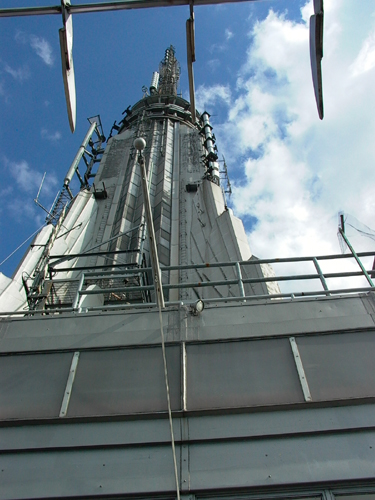 The top of Empire State Building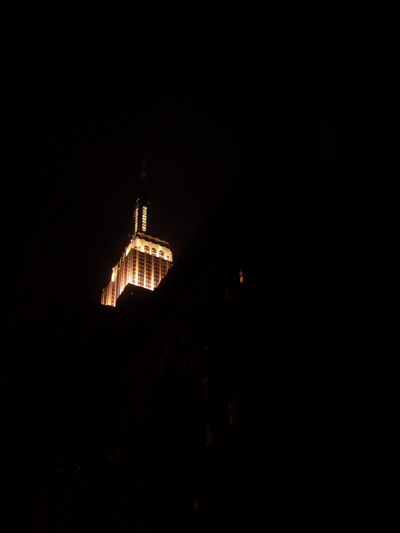 The top of Empire State Building from our hotel room.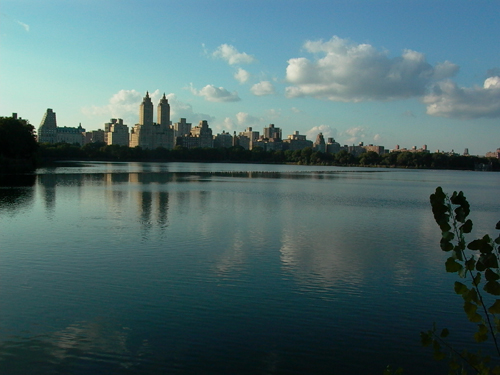 The huge Central Park in the middle of NYC.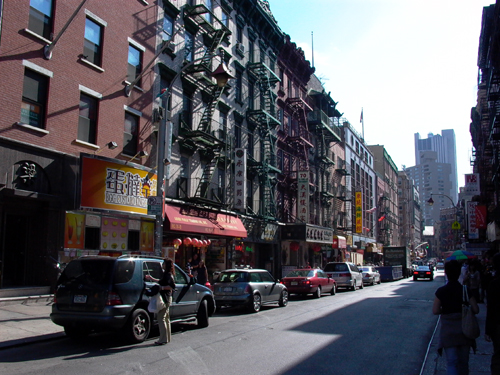 This is the largest Chinatown I have never seen. It is much better than the one in LA. It looks like the old area Wan Chai of Hong Kong. It has almost everything in there (much more than the London one).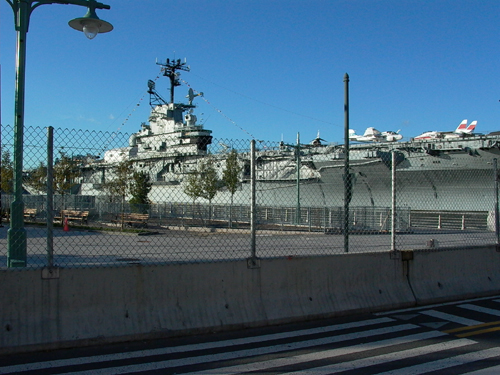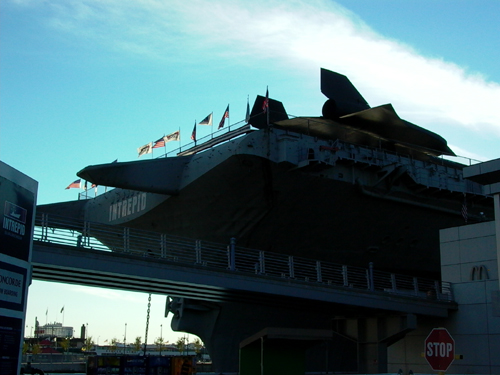 Intrepid: it is sad, this museum closed the day before our visit.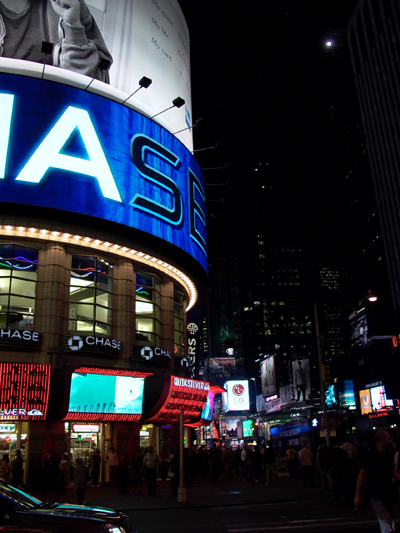 The famous NYC Time Square.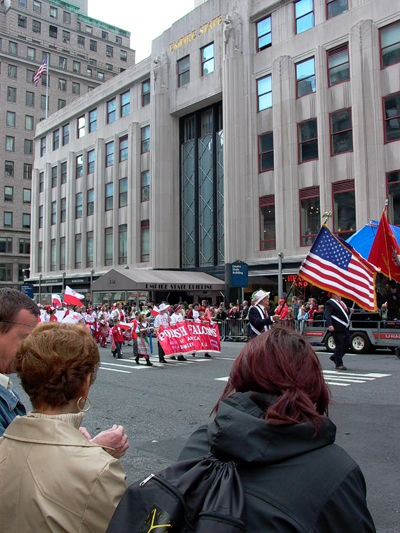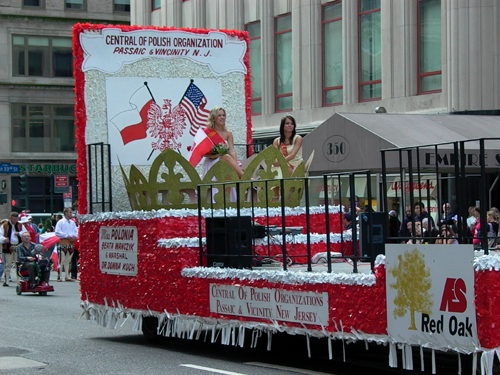 Polska Parade on the Fifth Avenue.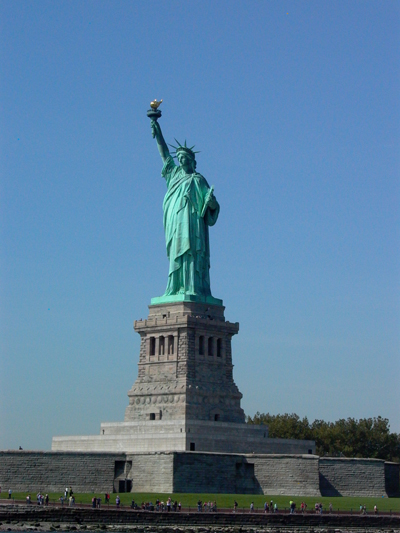 Statue of Liberty (from a ferry).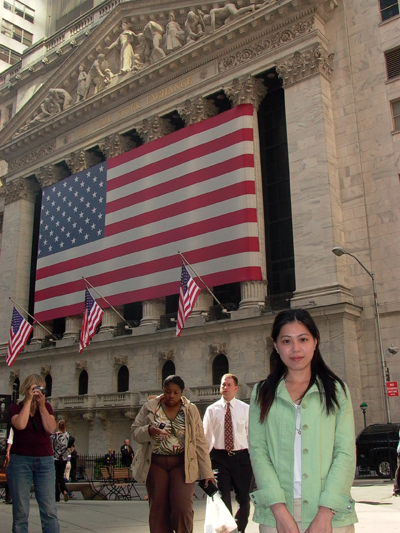 My lovely wife in front of New York Stock Exchange (Wall Street).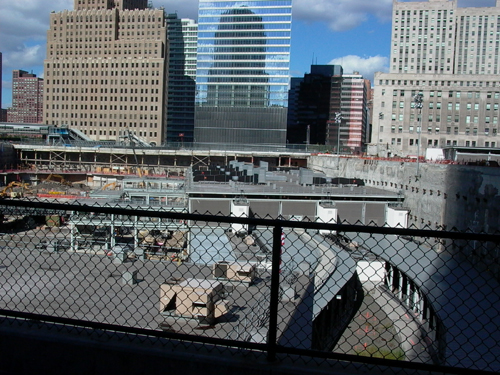 World Trade Centre (In memory)
05 Oct 2006

Fort Worth, Texas, USA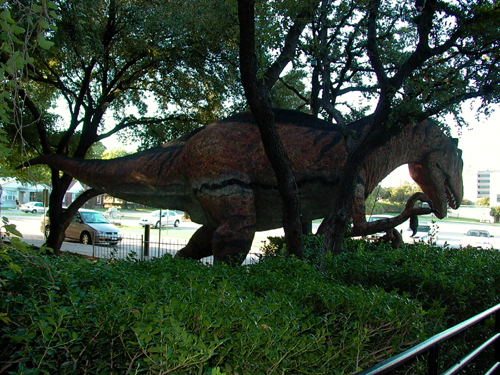 I like this T-Rex in front of the Fort Worth Museum of Science and History.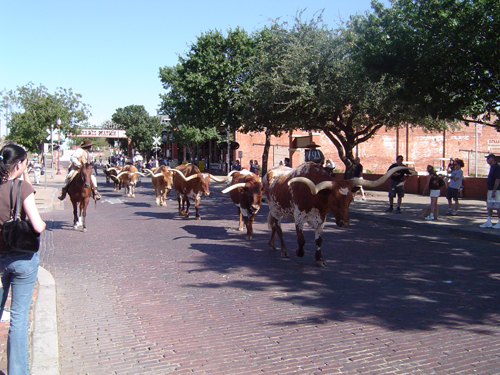 Very impressive western heritage in Stockyards National Historic District. Meet the cowboys and guns there. (Cattle Drive)
Other than those, Fort Worth is quite boring to me.
30 Sept 2006

UCL Graduation Ceremony 2006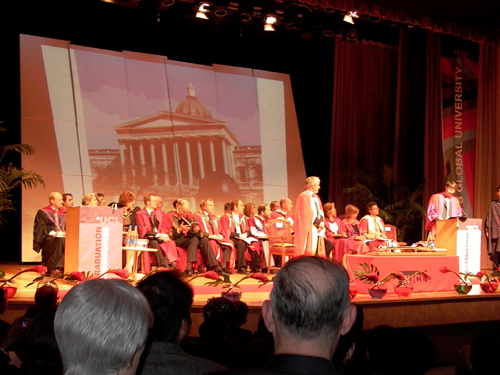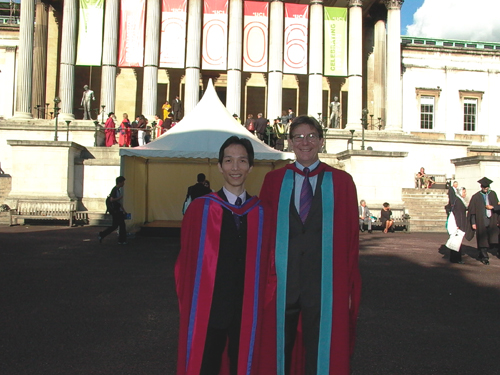 With my most respectable Professor Paul Cross.
29 Aug 2006

Brighton visit
My lovely wife and me visited Brighton. We love here and the seafood in The Regency Restaurant. Thanks for Paul's recommendation of visiting Brighton.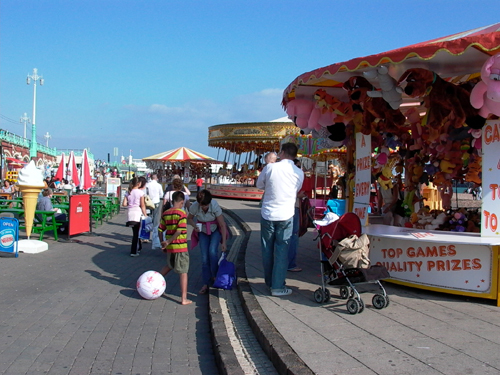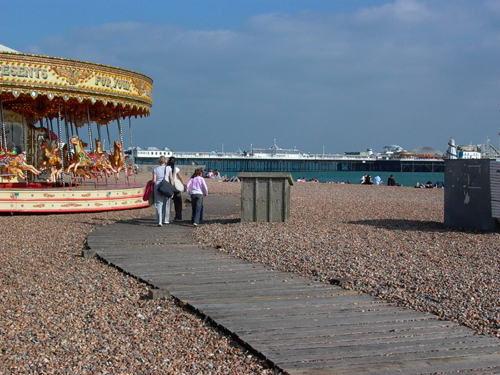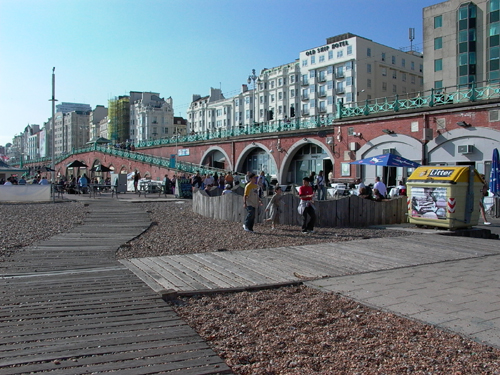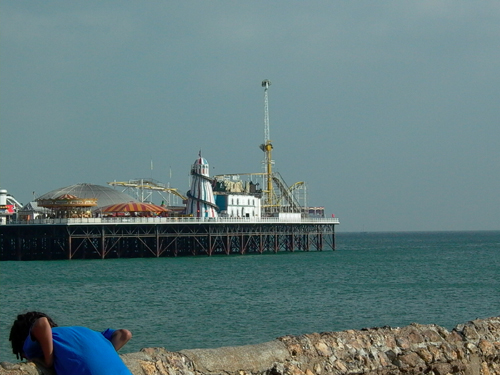 Do you want to try?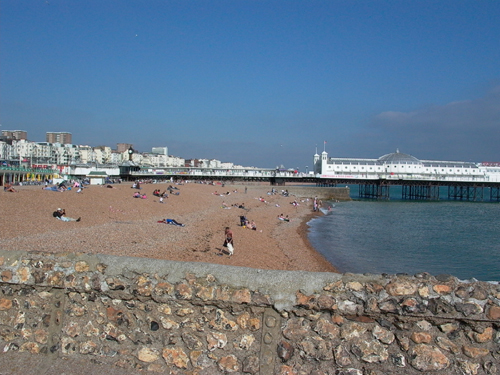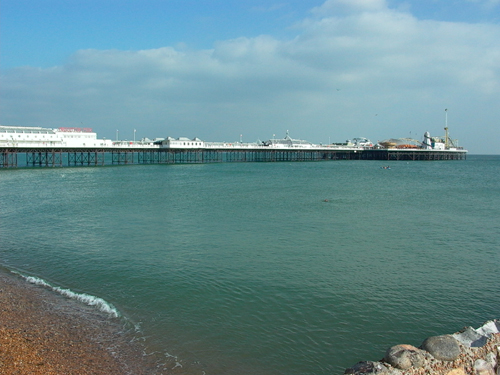 Brighton Pier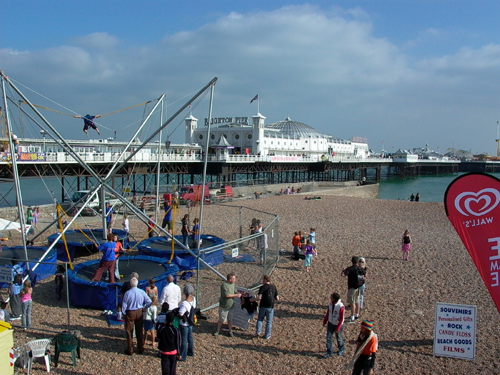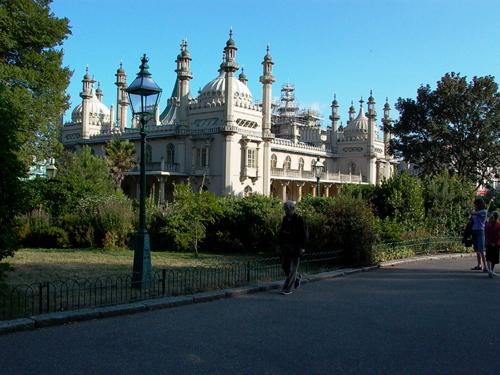 Royal Pavilion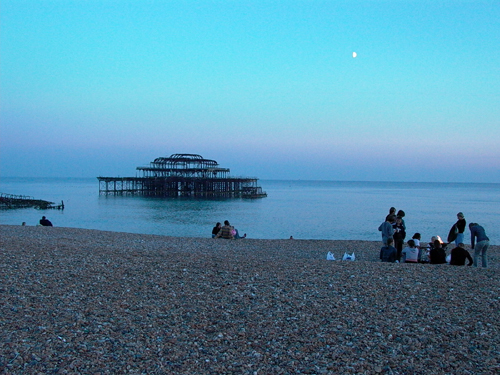 West Pier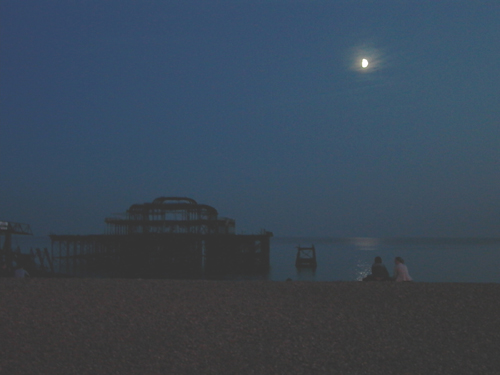 West Pier under the Moon
05 Aug 2006

SPACE working dinner in Saint Georges Hotel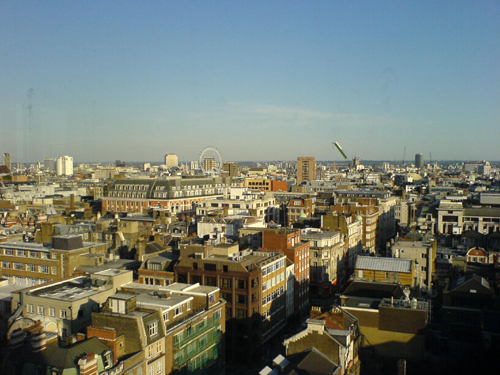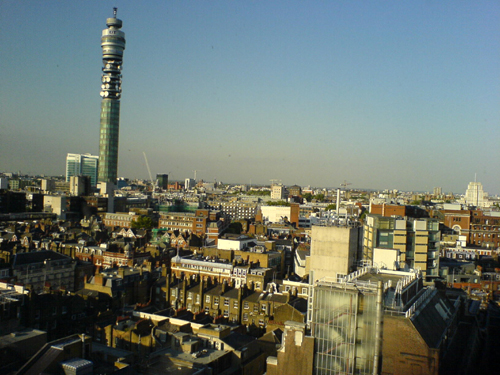 A very good view of London from Saint Georges Hotel at Langham Place in Regent Street.
12 July 2006

Royal Academy of Arts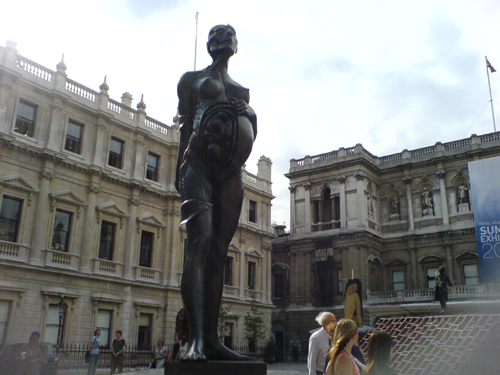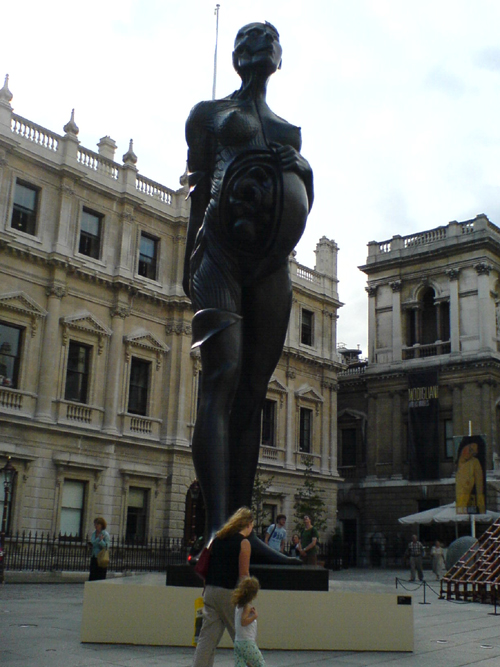 The new art product displays in the entrance.
07 July 2006

World Cup 2006 football
I bought this World Cup 2006 football as I like this design, which looks like a boot (top-view). I will try to play "a bit" football again (in my garden first and then in parks) as I do need some sports.
08 June 2006

Concert?
A "concert" on the Portico of UCL.
02 June 2006

My homepage in Italian
Someone translated my website into Italian.
30 May 2006

Cat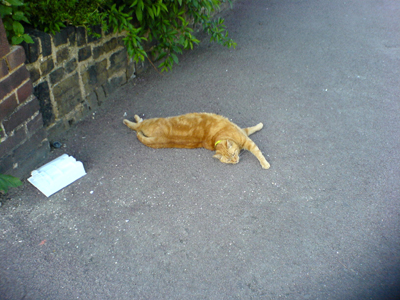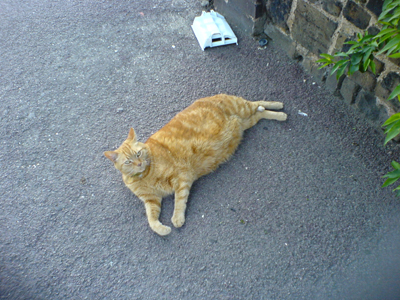 I like this fat cat. He (I guess) was cooling down in the hot afternoon.
25th May 2006

A small park in central London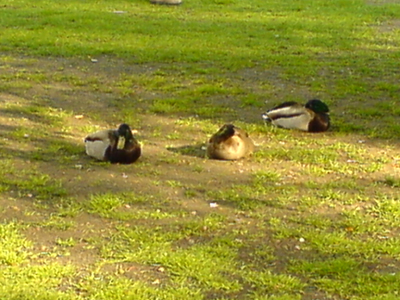 Ducks enjoyed sunbath.
10th May 2006

Manchester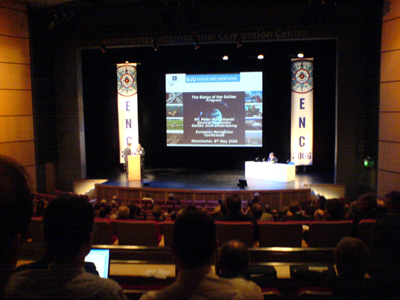 European Navigation Conference (ENC) 2006 held in Manchester UK. I went to Manchester for giving a presentation in ENC06.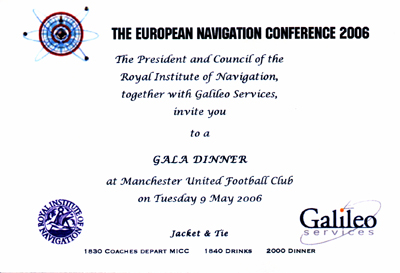 Gala Dinner in Manchester United Football Club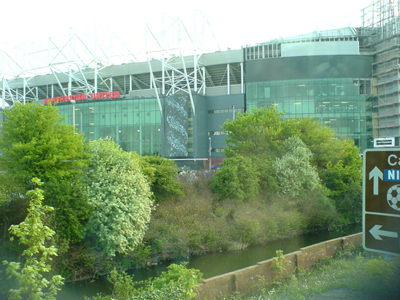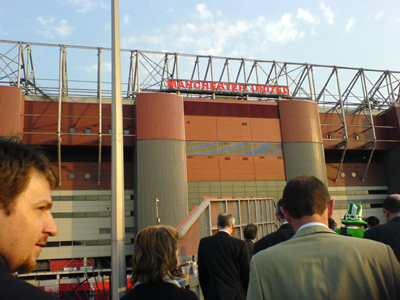 Going to Old Trafford for the Gala Dinner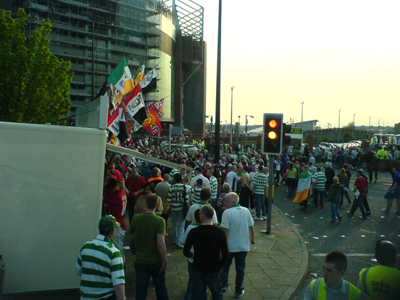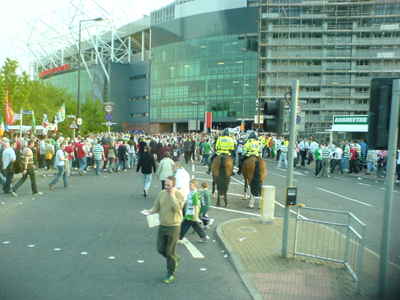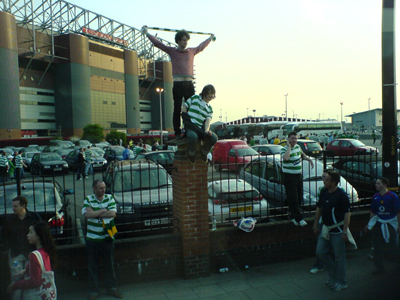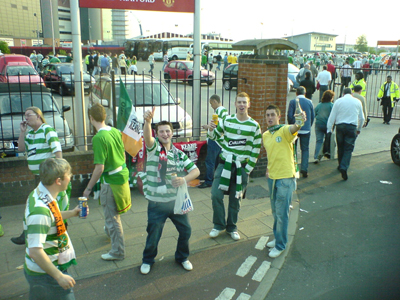 Manchester United vs Celtic: Saw the football fans on the way to the dinner.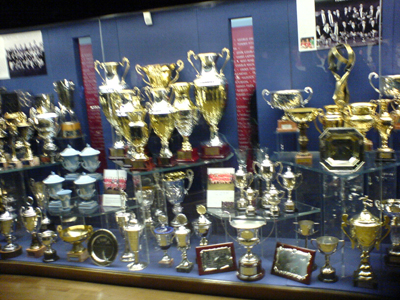 Part of the MU's awards.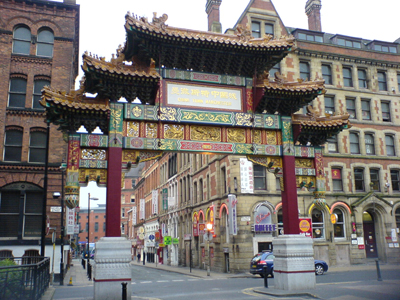 China Town in Manchester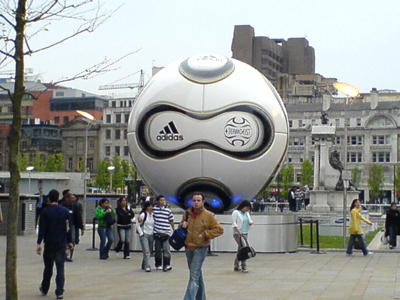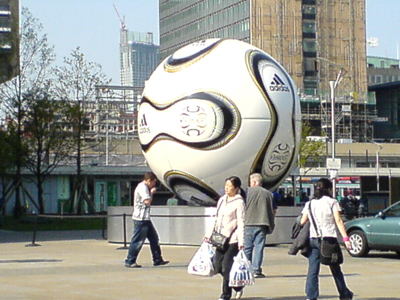 Manchester: A city of football. A big (World Cup 2006) football in the city centre. I found a lot of Chinese in Manchester; I took the above two pictures at two different time but there were Chinese in the two pictures.
10th May 2006

Chinese New Year in London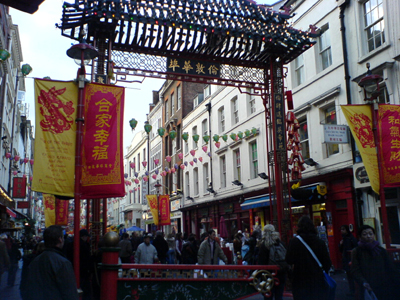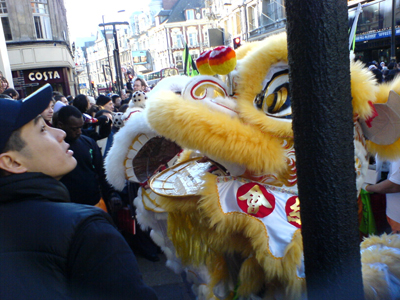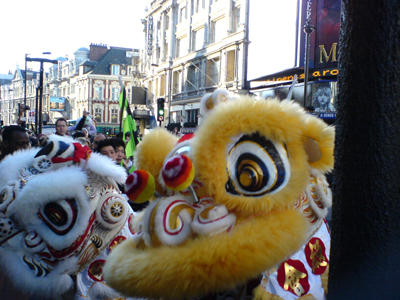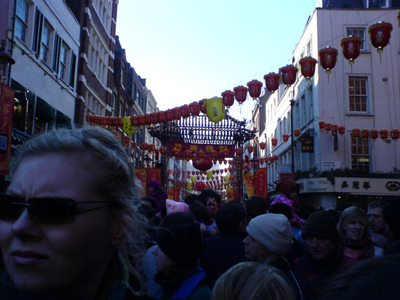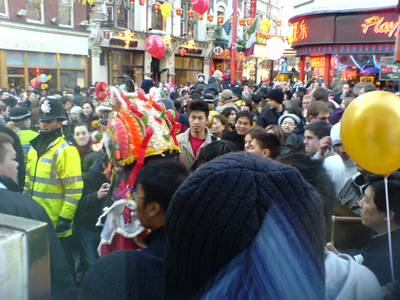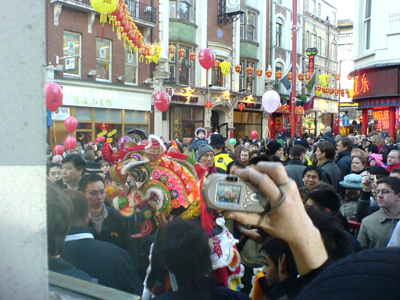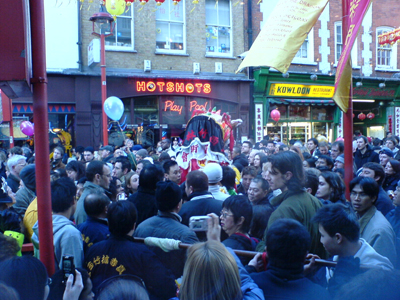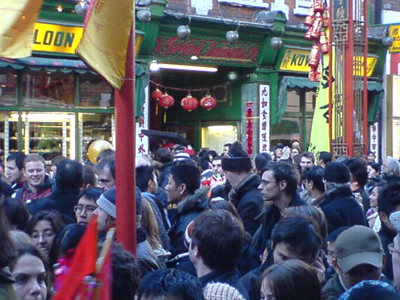 Joe and Lawrence have the first Chinese New Year in London.
29th Jan 2006

Joe and Lawrence Happy Wedding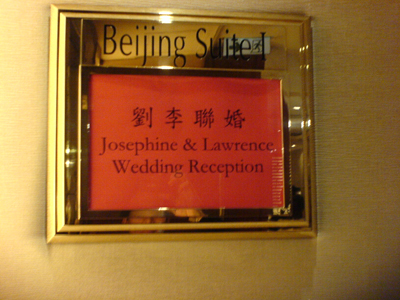 07th Jan 2006.

Mike Hemming's Hong Kong visit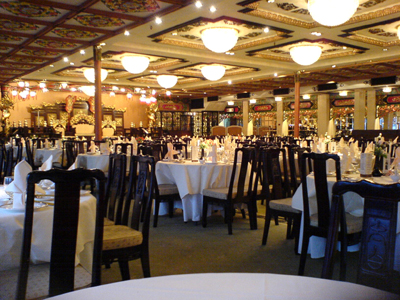 Having dinner in Jumbo floating restaurant.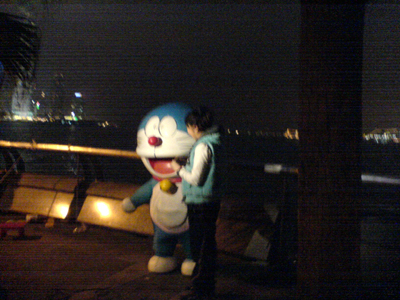 We saw Doraemon near Hong Kong Conventional Centre.
04th Jan 2006.

Joe's Pug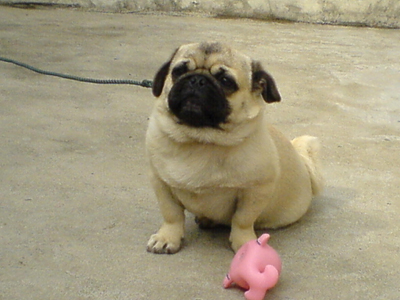 27th Dec 2005.

Joe, Lawrence, and Lawrence's sister and brother families having Japanese food in Hong Kong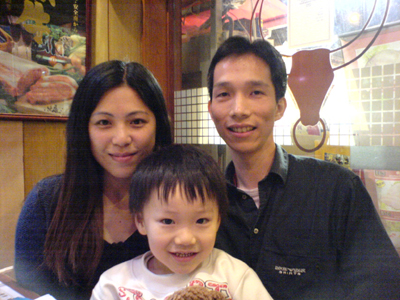 Hin Hin, Joe, and Lawrence
26th Dec 2005.

Christmas decoration in Regent Street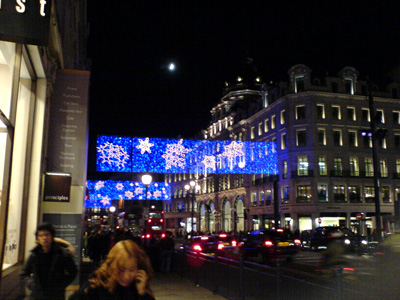 Christmas is coming.
10th Nov 2005.

A presentation in Church House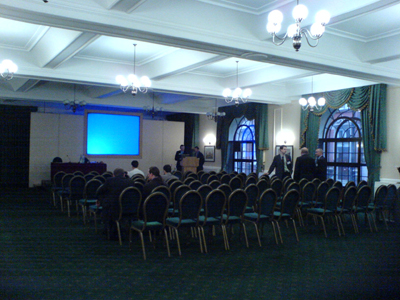 I have given a presentation in this hall today. I took this picture after a coffee break followed by my presentation. It was not just that few audiences when I was presenting. Actually, it was more than I expected.
2nd Nov 2005.

Foggy morning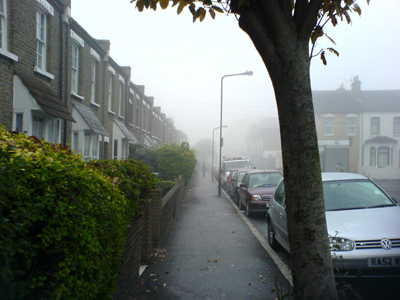 Suddenly, this morning was so foggy even after 8:30.
17th Oct 2005.

Cat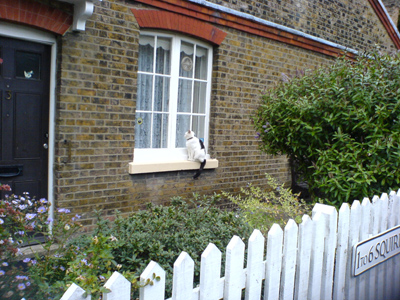 I saw this cat when I was walking to tube station this morning. Cat has the most similar character as ladies. When she is alone, she looks charming and nice to people. When she meets another cat, they may fight.
7th Oct 2005.

Internet comes back
Having Internet connection at home. It is faster than before, it is almost 2MB/s now.
3rd Oct 2005.

Farewell for John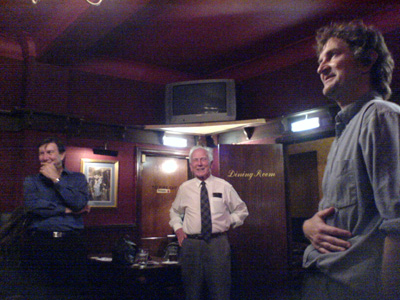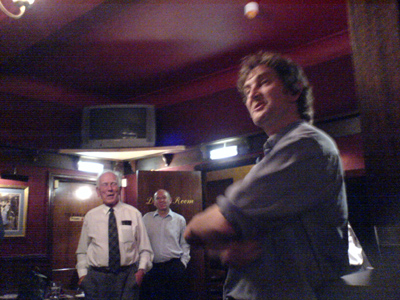 John is leaving our department. He was my lecturer in my postgraduate study in UCL ten years ago. I must say he is a good and kind lecturer, no one wants him to leave the department. It is sad.
Long time no see, Dr Allen.
27th Sept 2005.

New academic year in UCL
Many students come to enrol for the new academic year.
26th Sept 2005.

Number plate
What it means?
24th Sept 2005.

My removal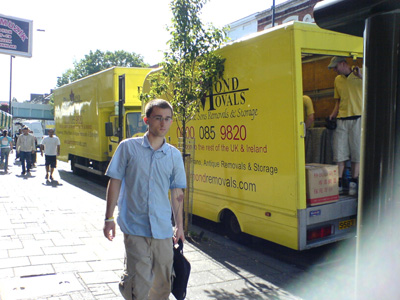 I need two vehicles to move my stuff? Actually, only one vehicle carried my stuff. The two genlemen from another vehicle helped to move my stuff. I must say their service is very good and the price is good as well. They helped me to have a smooth and quick move. It is probably the nicest removal of the five removals in the last six years.
24th Sept 2005.

Aircraft Show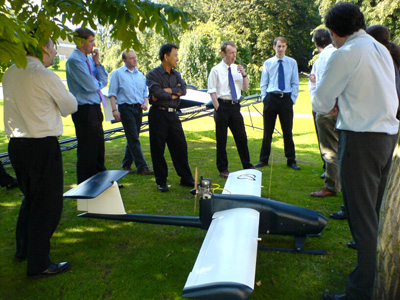 IESSG bought two model aircraft for doing experiments. They shown them to us (the SPACE partners) in the lunchtime of the meeting.
22nd Sept 2005.

I like it.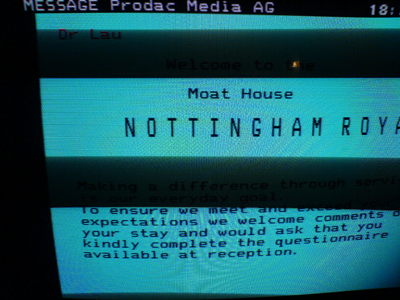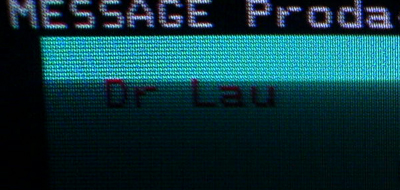 Stayed in a hotal in Nottingham for the next day's meeting. The hotel displayed my name on TV. I like it.
21st Sept 2005.

My home is on fire?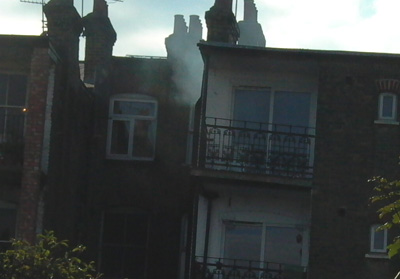 Of course not. The smoke comes from the pipe of gas extractor of the Turkish restaurant on ground floor. The pipe is just outside my home. I have to close all the windows. It causes seriour problem in summer and ventilation problem even in winter. No problem, I am moving to another nicer house.
19th Sept 2005.

Song of Pig
Xiang Xiang is the first Chinese internet pop idol. Read her news in BBC. I like her song called "Song of Pig". Listen the song here (in Chinese). Another male singer "MTV" version (rather horrible voice but funny flash) can be found here.
17th Sept 2005.

Oh! I see.
I know what was happening in Leicester Square yesterday evening. Please find out who were there in here. It was about a film "Goal"
16th Sept 2005.

What's happening in Leicester Square..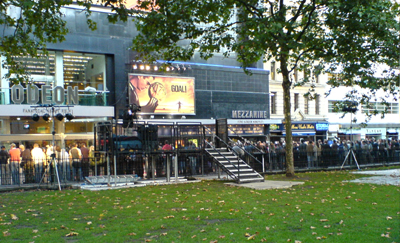 15th Sept 2005.

An advertisement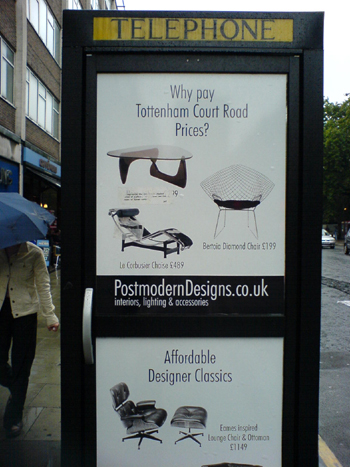 An interesting advertisement on Tottenham Court Road.
15th Sept 2005.

Arsenal plays against Thun (Champions League) this evening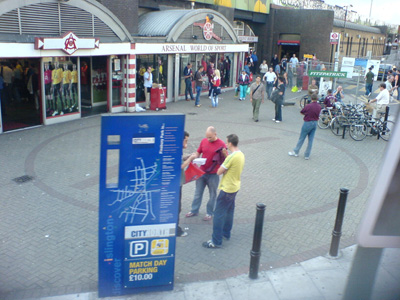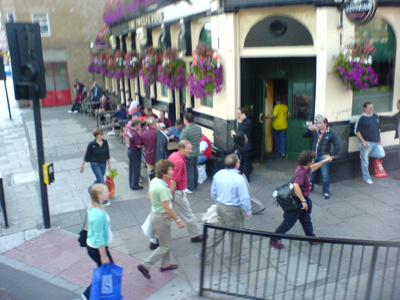 Arsenal's fans arrived Highbury about two hours before the match.
14th Sept 2005.

Beagle is a star
Someone in County of Sacramento (California, US) asked my permission to use this Beagle's picture in their brochure last week by email (he found my web page by Google). Of course, I agreed. Here is the cover of the brochure.
Anyway, Beagle doesn't bite people. (He stated that they wanted a photo that wasn't too scary.)
12th Sept 2005.

Pub to let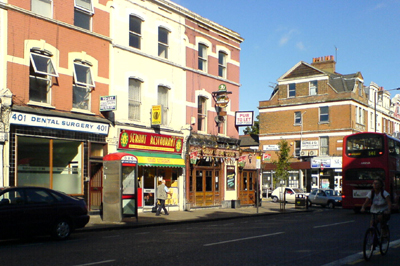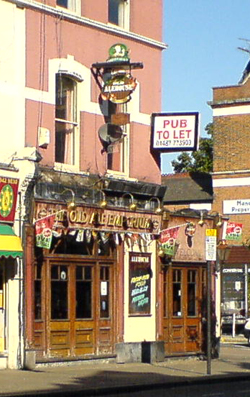 9th Sept 2005.

More BBQ pictures on 4th Sept 2005 by Zhenhong..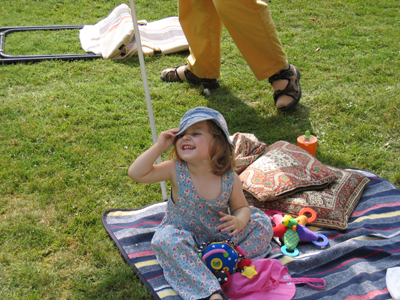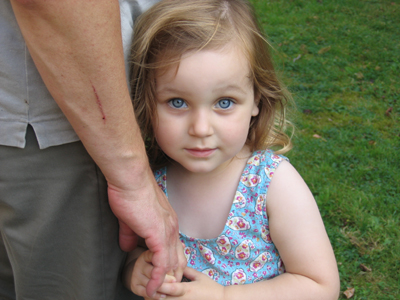 Stuart's daughter is so cute. She is a star in the event.
Chatting..
9th Sept 2005.

More UCL Graduation Ceremony 2005..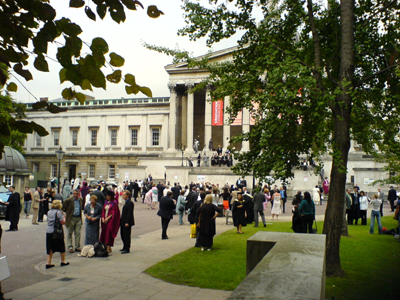 There were some PhD graduates.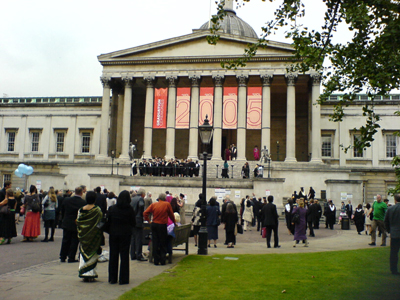 Some graduates threw their graduation hats in Portico.
6th Sept 2005.

BBQ in Jan and Ian's home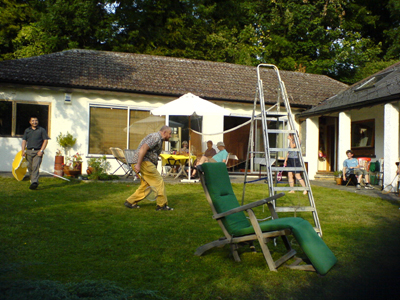 Many staffs, students, and their families in our department had BBQ in Jan and Ian's home and some of us played badminton in their garden then. A very good and enjoyable day.
4th Sept 2005.

More UCL Graduation Ceremony 2005..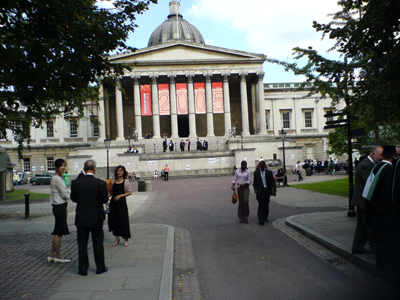 I didn't notice that a Chinese girl was looking at me when I was taking this picture. Please don't misunderstanding me for the picture on the right, I just want to see the resoultion of my mobile phone. Definitely, the resolution isn't good enough. Anyway, she looks like a Hong Kong female star - Charlie Yeung.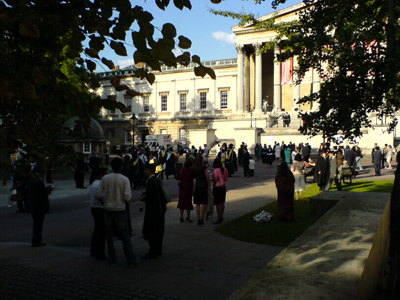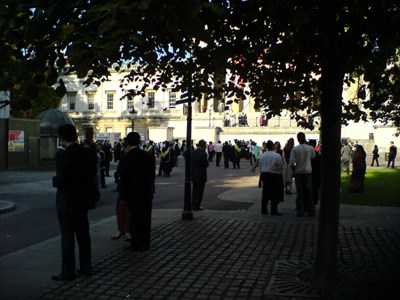 Happy graduates and their families and friends.
2nd Sept 05.

UCL Graduation Ceremony 2005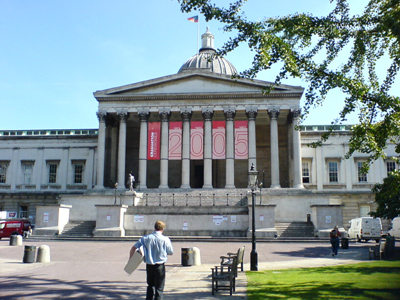 Coming soon.
31st Aug 05.

"New" tram in Nottingham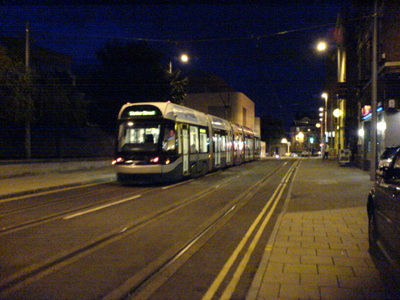 It is not new actually, it has been running for almost an year. It reminds me the tram in Los Angeles.
24th Aug 05.

Trafalgar Square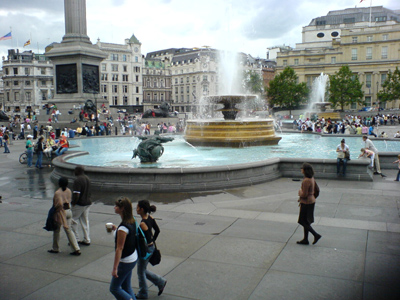 After the London bombing on 7th July, I decided to take bus instead of underground as I think there are more buses on the ground than trains under the ground at the same time and the probability of getting close to the bombs should be lower. I hope I am right. However, I don't want to hear/see any bombing again. Here is where I wait for my bus to go home.